About Us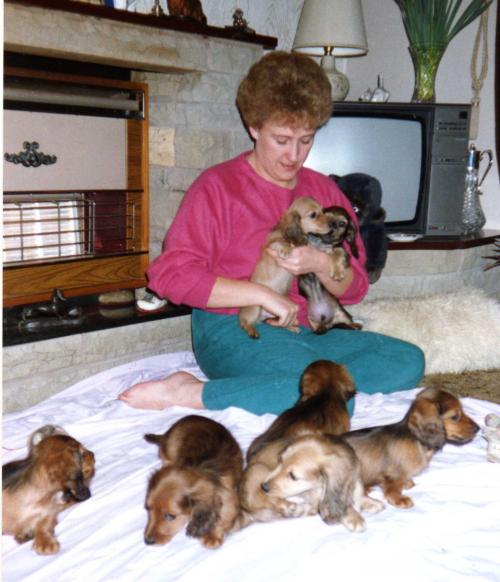 First Miniature Long Litter born 1988
Hi our famous Ralines Kennel has been established since 1973 when I (Ruth Lockett-Walters) started exhibiting our first home bred Standard Smooth in partnership with my mother and father Peter & Freda Lockett. We had a fantastic really successful line built up in no time and made up a total of 21 British Champions. When I left home and got married, it was then that I started my miniature long line in 1985. Ch Kizzhar Kavalcade was in fact a wedding present from my close friend Andrew Leighton. Percy (Kavalcade) became a very prolific sire and is at the back of most English pedigrees today. My first miniature long bitch was purchased unseen for compatibility to Percy's lines and it was here that our first champion came in 1988 namely Eng & Aust Ch Ralines Biaritz. From this small beginning our line has grown from strength to strength and is now known worldwide.
We pride ourselves on breeding for type and temperament and have gone to extreme lengths to research the eye problems in the breed and breed safely, all our stock is tested for GRPA (cord 1) and are healthy happy pets as well as being beautiful show dogs.
Helen my daughter has recently joined our kennel partnership and is now the third human generation to campaign the Ralines affix.
The dogs have brought us great pleasure and pride and also the opportunity to visit other counties when judging.
If you too are a dachshund enthusiast if I can be of any help or assistance to you regarding British bloodlines, please contact me by email I will be only too happy to help.